We're quickly approaching the one year anniversary of the day we lost beloved actress and icon, Carrie Fisher. Those of you that are familiar with my art and illustrations may remember the
Princess Leia drawing
I did several years ago: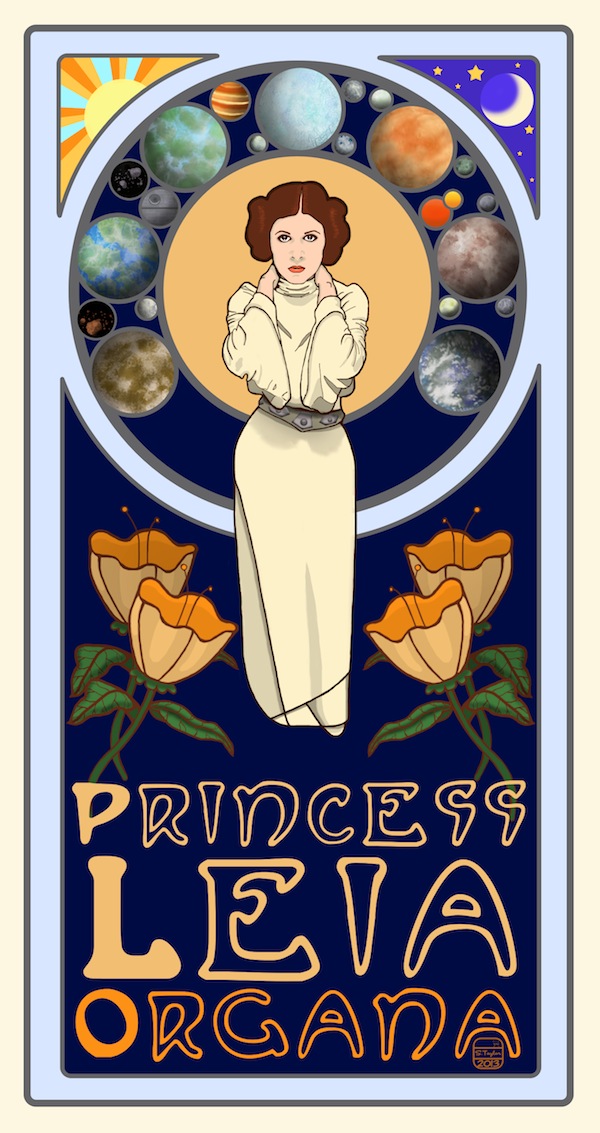 As a result of her passing, sales of my print on
Etsy
went up and I wasn't sure how to feel about that. It felt strange to profit from such sad news. Yet there were a lot of people who wanted a piece of art to commemorate Carrie Fisher's passing. So this year I thought I'd point you towards other people's illustrations of every geek's favorite Princess. I'm so into these, I hope you enjoy them too! 'Our Blessed Rebel Queen, Carrie Fisher' by Lindsay Van Ekelenburg
is available here, on
Lindsay's Society6 shop.
"Our Blessed Rebel Queen and Lady of Alderaan, Carrie Fisher. An inspiration to us all, let her glowing radiance shine down upon you."
Yes, indeed. Carrie and Gary forever! By the way, Gary has his own
Instagram account
where you can find all the French Bulldog cuteness you could ever need.
'Drowned in Moonlight' by angiedesigns, available on her
Redbubble shop.
This is the beginning of a series of designs I'll be doing in honor of the incomparable Carrie Fisher. <3 Any and all proceeds from these designs will go to a number of different charities supported by Carrie herself, including The Midnight Mission and the International Bipolar Foundation.
After being told by George Lucas that she wasn't to wear a bra under the iconic white dress, Carrie asked why not? To hear her tell it in her book
Wishful Drinking
:
What happens is you go to space and you become weightless. So far so good, right? But then your body expands??? But your bra doesn't—so you get strangled by your own bra. Now I think that this would make for a fantastic obit—so I tell my younger friends that no matter how I go, I want it reported that I drowned in moonlight, strangled by my own bra.
'Princess. General.' by Fabs Nocera is also
available Society6.
Loving the colors in this one, the glow of the red light is fantastic. Check out Fabs' other pieces as well, they're lovely! 'Life Be Art' by Chelsea Herrick also on
Society6
So there you go, some fun pieces to keep Carrie's memory, her wit and spirit alive for years to come. Tell me what you think and post links to any other Carrie Fisher art I should know about! S.